It's a wrap! We're thoroughly inspired after all the innovation and excitement we experienced at the HR Technology Conference in Las Vegas last week. It's safe to say anyone attending came away a big winner! From sharing our expertise in HCM to celebrating one year of the ADP Marketplace, here are just some of the high-rolling HR Tech highlights.
ADP's Matt Herman, Hadar Yacobovitz, Michael Lubow and Serafin Vazquez (pictured below, clockwise from left) represented ADP by competing in the HR Tech Hackathon. The team had just 48 hours to come up with an HR solution that touched on three areas:
Culture: How to communicate, define or enforce
Strategy: How to create, define and execute a talent/HR strategy
Talent: How to raise the overall talent level of the organization.
The team presented its solution, Wingit, which provided a place where leaders could solicit ideas from their employees, gain support for their concept, and eventually bring the idea through creation and execution.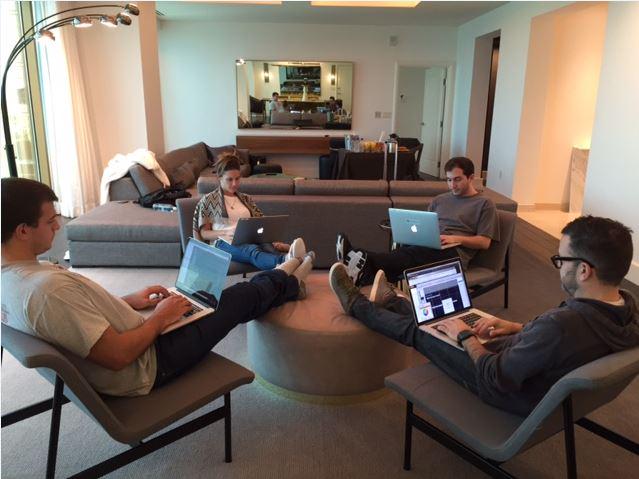 It was clear from a series of tweets from the audience that the Wingit concept resonated well.
We also spent time celebrating the one year anniversary of
ADP Marketplace
. ADP Marketplace is home to more than 93 apps and counting, designed specifically to help HR managers foster their people from hire to retire. We enjoyed demoing how when HCM Apps and ADP Marketplace team up, it creates a dynamic duo of superhero proportions.
ADP Marketplace was honored as one of the Top HR Products of 2015. ADP Marketplace is a cloud-based app store designed to serve as a one-stop shop for ADP clients looking to test out and purchase new enterprise applications from ADP and other vendors. Products available on the site are intended to be easily integrated with a client's existing systems and data. The site includes security protocols designed to ensure the safety of clients' information. Senior Vice President, Product Management
DonWeinstein
offered a demo of ADP Marketplace at the Awesome New Technologies for HR session.
As always, mingling in person and online is one of the best parts of participating at HR Tech. Thanks to everyone who tweeted with us during the conference. Here's a little eavesdrop on the conversation.
We enjoyed meeting so many HR leaders who are excited about the new innovations that are reshaping the workplace. We look forward to seeing you back in Vegas next year!